Well, we made it back from Utah yesterday afternoon around 3:00. And we had a WONDERFUL time! We ended up staying two extra days and had even more fun! This might be a lengthy post but I want to share every detail that I possibly can, pictures included, so hang on...
We left last Tuesday (20th) bright and early at 6:00 am. We had grand plans to drive to Cortez, CO that day, get up early Wednesday morning and get to Ryan's parent's house around 1:00 or so to surprise them. Everything was going to plan until Ryan called his parents Wednesday morning after we left Cortez. His dad answered the phone and Ryan told him that we would be leaving Albuquerque just as soon as we got the kids in the car. Then....we lost reception because we were in the middle of nowhere Utah/Colorado. I told Ryan that his dad is a smart man because he would either A) figure out that we're lying to him and that we actually had already left or B) call my parents to see what was going on. About 45 minutes later our cell phone rang and it was Jim! Ha! He said to Ryan, "Soooo, you guys are going to be here alot earlier than we thought. You just left Cortez." Ryan just laughed and told him not tell anyone else, not even his mom. So we ended up surprising Lorraine which was priceless. She didn't suspect a thing and was so excited when we walked in at 1:30. The kids were even more excited to see that Grammy and Pop Pop had a dog! And that was great entertainment for them the whole time. Andrew became fast friends with Fiona and constantly asked "Where's the puppy, Mom?" (Maybe we won't have to get a dog if we go to Utah at least once year so the kids can get their "dog fix"
)
Thursday was spent in preparation for dinner that afternoon. I was of little help since I was suffering from a huge sinus infection. Ryan took me to the instacare Wednesday night so that I could get some antibiotics. And that helped so much. In hindsight I should have done that before we left for Utah, but I thought for sure it was getting better. Anyway, Lorraine, Melissa, and Sarah (Tyler's wife) made a delicious dinner! Ryan's sister Cassie and her husband Cole came that afternoon from Ogden and his brother Matt and his wife Ashley and their boys Heston and Porter came over. The little cousins had a BLAST with each other! They played so well together and it was so fun to watch. After dinner we played games and watched movies.
On Friday we made plans to go up to Salt Lake to see my grandpa. However, things changed when I got a phone call from my mom telling me that Aunt Kathy had just called and that Grandpa was on his way to the hospital because they thought he might be having a "small heart attack". I lost it. I just cried and cried. But then the thought came to me that he was going to be ok and at least we were up here if anything should happen. Fortunately, it turned out not to be a heart attack just some really bad pains coming from his rib cage. (I don't know exactly the name for it, but that's how it was described to me.) We changed our plans to go see him on Sunday afternoon. And actually it worked well for us because Ryan's grandparents came down to Orem that morning to see us. So we got to spend some time with them and they are just as cute as ever. I always take a picture with them every time we see them.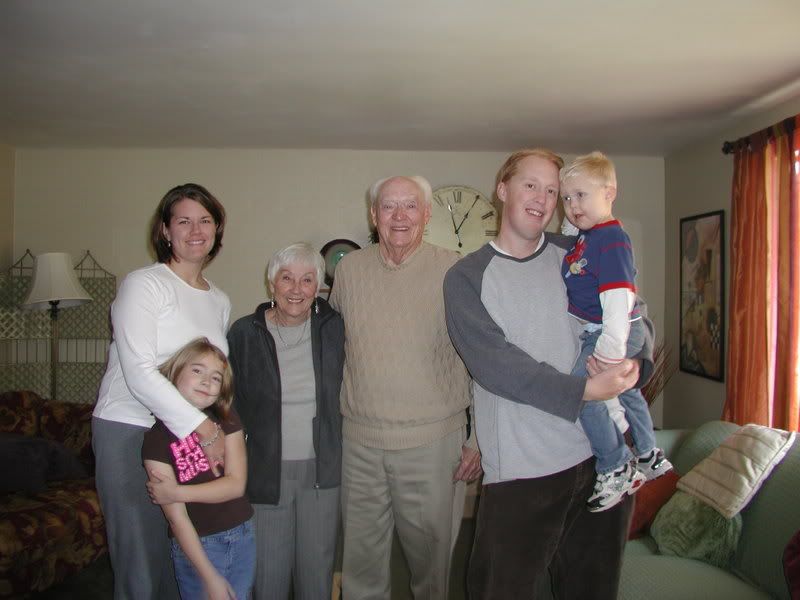 That afternoon we had the "Bolt Family Pictures" taken down in the Riverwoods area in Provo. It was beautiful but pretty chilly. Ryan's brother Dustin took them and they turned out pretty good! (Thanks, Dustin!)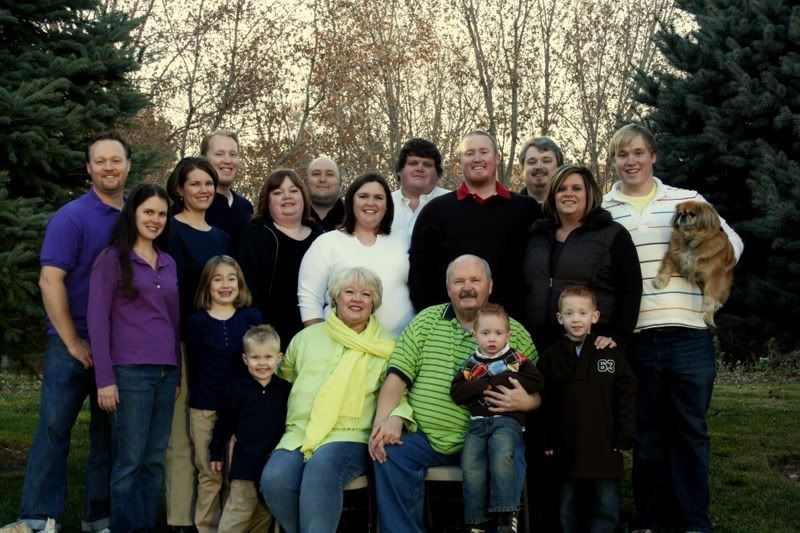 (Back row L-R: Tyler, Ryan, Cole, Tony, Jason Middle row L-R: Sarah, Me, Cassie, Melissa, Matt, Ashley, Dustin holding Fiona Front row L-R: Rachel, Andrew, Lorraine, Jim holding Porter, Heston) This was by far the best one. And then Dustin took pictures of individual families. Here's a couple of ours:
.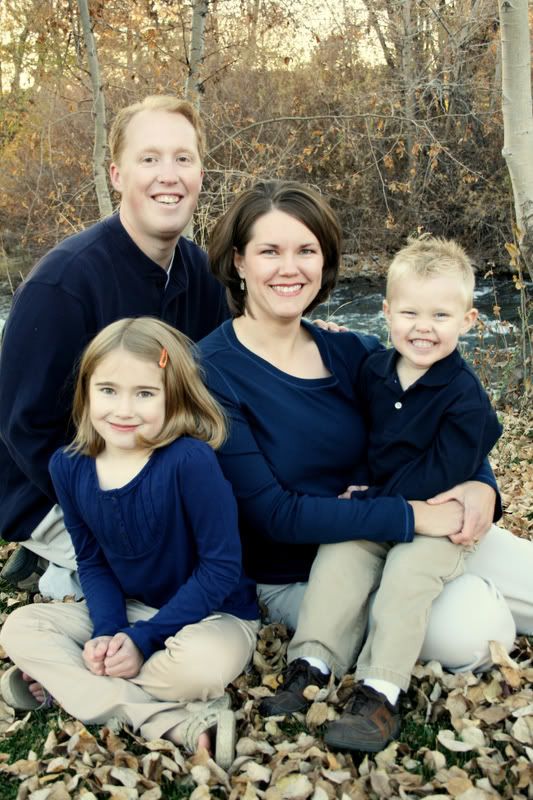 The bottom one is probably my favorite one. Can you tell the kids were freezing? They are just not use to Utah cold weather. (And can you believe we actually saw some people wearing shorts? At first it was kind of shocking, but then I thought back to when I was living there and sometimes in the winter I would wear shorts or short sleeve shirts with nothing but a light jacket or no jacket at all and think nothing of it. I'm a bit of a wimp now.) And then he took one of the grandkids and grandparents and they were precious!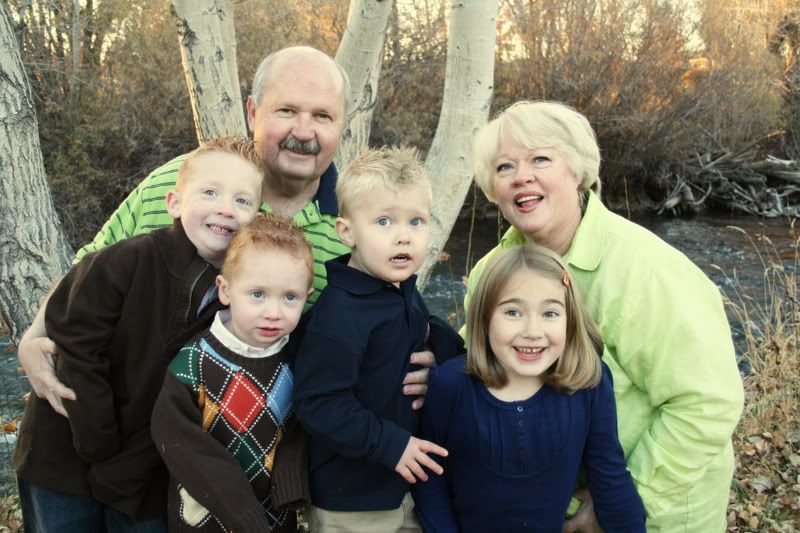 This was probably one of the better ones. My kids had pretty much had it with the pictures or rather the cold at this point. These next few crack me up. Notice my kids compared to Matt & Ashley's. It is so obvious which ones don't live in Utah...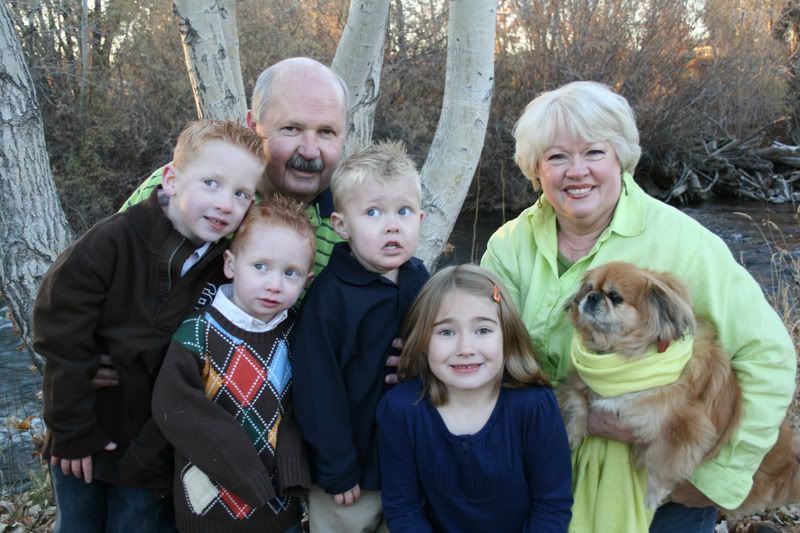 Rach and Andrew look like they are going to become popsicles any second. By the time these shots were done Andrew's lips were literally purple he was so cold. Anyway, it was great fun.
Saturday, Ryan, his dad and brother went to the very anticipated BYU/Utah game. They were all dressed in their Utah stuff and I think they were pretty sure who was going to win the game. But, alas, it was a sad game for us. BYU won. Ryan was still recovering from the loss the following day
While they were at the game me, Rach, Dustin, Melissa, and Tony went to see "Mr. Magorium's Wonder Emporium". It was a cute movie but not what I expected it be. We were totally planning on taking Andrew with us, but he fell asleep about 45 minutes before so he and Lorraine stayed home. And it turned out to be a good thing because I don't think that movie would've held his attention for very long.
Sunday we got up early to get up to Gardner Village in Midvale to have my friend Heather White take some family pictures. It was a lot of fun as well. It was completely decorated for Christmas and the kids loved it. I'm still waiting to get the pictures back. I can't wait. I'm sure they turned out fabulous! It was so awesome to finally meet her. I have only known her through her blog and she is just as fun and cute and wonderful in real life! I hope we can get together some other time while I'm up there so that I can get to know her better! (Thanks Heather!) After we left there we surprised Rach by taking her to "hallowed ground". No it wasn't temple square.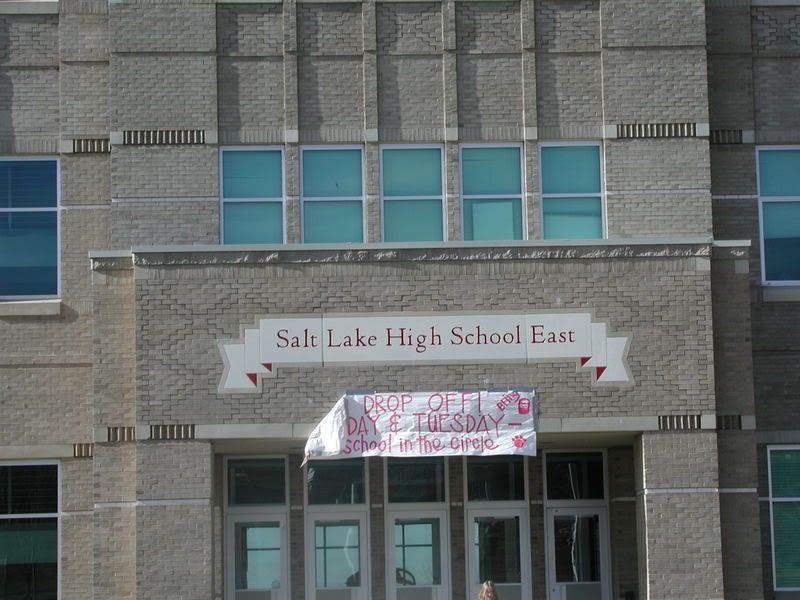 EAST HIGH!!! The site of High School Musical!!
She was so freaking excited!! It was awesome! She walked all around the front in just awe. It was pretty awesome.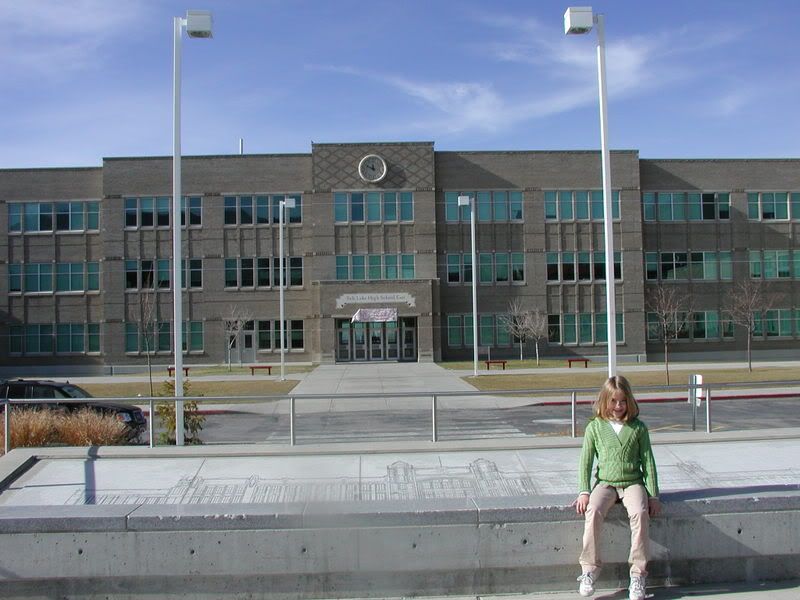 After that we went to see Grandpa. He lives in the Cottonwood Retirement Community. It is a really nice place. We spent about an hour with him. He just watched Andrew and Rach. He had his typewriter (which is really old) on his desk. And this is a funny story. When I was little when we would to Grandpa and Granma's house in Bosque Farms we were NEVER allowed to touch Grandpa's typewriter. Not that I remember Grandpa ever telling us not to touch it, but I remember my mom just pointing her finger telling us "Do NOT touch Grandpa's typewriter!" I always thought if we touched it Grandpa would spank us. So I was always deathly afraid of doing that. But while we were at Grandpa's Rach and Andrew were absolutely fascinated with the old typewriter. Probably because they had never seen one before. And I could hear in my head my mom telling me, "Do NOT touch Grandpa's typewriter!" So I was getting after my kids telling them, "DON"T touch Grandpa's typewriter!" Grandpa was just getting a kick out of them. And he said, "Oh Shannon, they're ok. They're not going to hurt it." WHAT?!?! I couldn't touch it, but my kids can??? You can tell where the great grandkids stand. LOL Anyway...After we had been there about an hour, Andrew says, "I go home now. Bye." and walked out the door. Grandpa just laughed. I said, "Well, Grandpa I guess we better go." He thought it was pretty funny. It was so good to see him and visit with him. I love him so much! After that we headed to Midway to have dinner with Aunt Kathy and Uncle Dean. We had a wonderful evening with them. Uncle Dean gave us a copy of his newest book Before the Dawn and it is awesome! I'm almost done reading it. I can't put it down. In fact I was up until 12:30 last night reading it! Highly recommend it!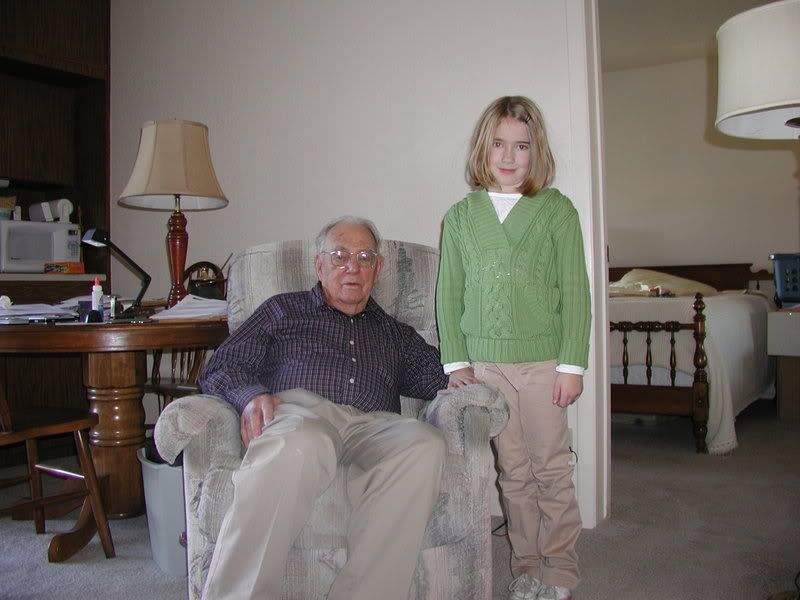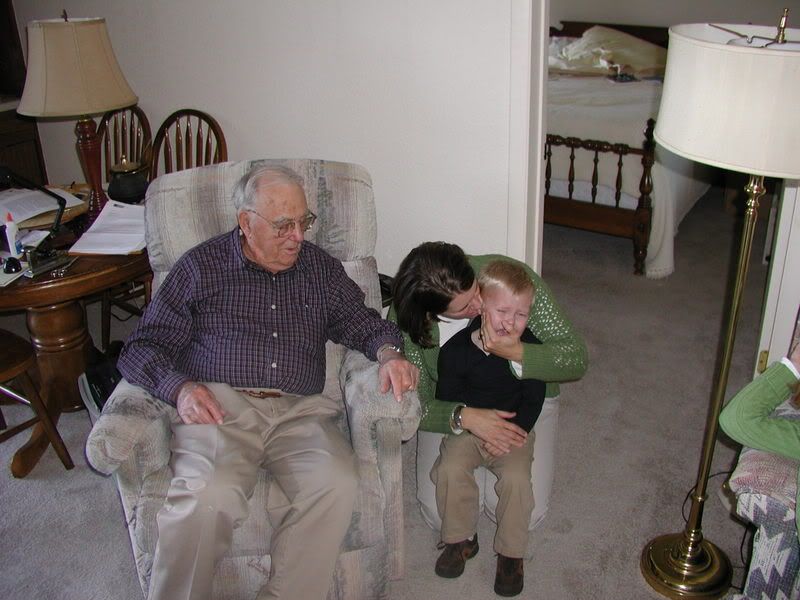 Andrew was pretty much done taking picture at this point. He did not want his picture taken anymore.
Monday we just hung out at Ryan's parent's house. Lorraine watches Heston and Porter on Mondays and Tuesdays so they were over there for the day. The kids had so much fun with each other. That night we went up to Salt Lake for dinner and to see the lights at Temple Square. It...was...awesome! The kids had never seen the lights at Temple Square before and I think they were in awe. Their favorite thing was seeing the life size nativity scene, hearing the Nauvoo bell ring (which we waited outside in the cold for about 20 minutes to hear) and seeing the Christus. It was such a fun evening and a wonderful way to start the Christmas holiday. (I have pictures but I just haven't uploaded them yet.)
Tuesday Ryan and I got up and got ready to go to the temple. We wanted to go to the Mt. Timpanogos temple since it had been a while since we had been to that one. We pulled into the parking lot and there were I swear maybe 10 cars there. I looked at Ryan and said, "I think it's closed." He called his parents and sure enough it was closed for maintenance. We were so sad. But at least we got to see it. Maybe next time we're up there we can go. That evening I went to Lorraine's Relief Society Christmas dinner. It was really nice and I really enjoyed myself.
Wednesday morning we left to go home. It was sad. We had such a great time. But it was time to come home. The drive was good except for going over Soldier Summit. It was snowing and semis were coming around the corners very fast. Our windshield wiper fluid froze so we couldn't wipe off our window which made it very hard to drive. We finally pulled over and Ryan got them washed off. It was a scary drive, but Ryan got us through it safe and sound. We drove to Tucumcari that night and drove the rest of the way in yesterday. Now it's time to get out the Christmas decorations and get ready. The elf made his appearance last night. However, the kids didn't notice him until this afternoon, so he's had all day to "watch" unnoticed!